Burberry profits rise as Asian sales grow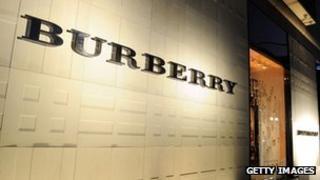 UK fashion brand Burberry has reported a larger-than-expected rise in annual profits, helped by a strong performance in Asia.
Profits rose by a better-than-expected 14% to £428m ($652m).
Revenue in China grew by 20% after the company opened 11 new stores there during the past financial year.
Chief executive Angela Ahrendts said the label was "well positioned with opportunity by channel, region and profit".
Total revenues for the year rose by 8% to £2bn.
But reported pre-tax profits fell 4% to £351m after the company made a one-off £82.9m payment to end a fragrance and beauty licence agreement with French company Interparfums.
Burberry, famous for its red, black and camel checked coats, launched its own beauty division in April 2013.
New markets
The company plans to spend £200m in the next year opening up to 25 new stores, and is aiming to expand its presence in China and Latin America.
Chinese sales accounted for about 14% of Burberry's total revenue, and the firm is planning to increase investment to capture a greater share of the market in China.
"We do know that the growth will continue to be higher (in China) than in most of the markets," said Angela Ahrendts, in a video posted on the company's website following the results announcement.
"We did some unique things there, specifically around Chinese New Year and Golden Week. Playing the same strategy socially that we do in other markets but trying to unlock the consumer in that market."
Burberry's strong growth in China is in contrast to recent cautious comments by rivals such as LVMH, owners of Louis Vuitton, who have reported slower levels of growth in the region.
Burberry opened four new stores in Brazil during the year, bringing its total there to seven. Although these outlets are not currently profitable, Burberry sees the country as having great potential, with sales being driven by increasing demand for Western luxury goods.