Bank of England votes 6-3 against stimulus increase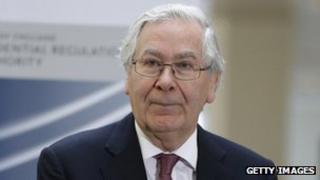 The Bank of England governor was outvoted once again this month, as the Bank's rate-setting committee decided against more stimulus measures.
Minutes from the Bank's Monetary Policy Committee's last meeting show it voted 6-3 against increasing the programme of quantitative easing (QE).
Bank governor Sir Mervyn King voted to increase QE by £25bn, along with Paul Fisher and David Miles.
It is the fourth month in a row the MPC has been split 6-3 on the issue.
The decision to keep interest rates at the historic low rate of 0.5% was backed unanimously.
The minutes said most committee members were against increasing QE at the moment, noting that growth prospects for the UK had improved.
Officials were also concerned that expanding QE could unsettle the markets, with increased worries about inflation.
Despite the recent run of 6-3 votes against QE, some analysts think the Bank could still increase the stimulus programme later in the year, after Mark Carney has taken over as Bank governor on 1 July.
Inflation figures released on Tuesday showed UK inflation fell by more than expected last month to 2.4%. While this is still above the target rate of 2%, the fall was seen as giving the Bank greater leeway to pursue policies to boost growth.
Last month, the Bank of England announced plans to expand the Funding for Lending Scheme, which aims to increase the supply of lending to businesses and households.
However, the MPC minutes showed that members thought the impact of this "was likely to be relatively modest on account of the small share of lending to smaller businesses in the total stock of lending".