Hewlett-Packard shares up 12% despite fresh sales fall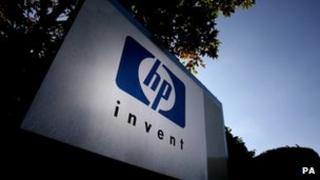 Hewlett-Packard shares have leapt in after-hours trading, despite quarterly results showing a seventh consecutive fall in sales.
HP, which is the world's largest personal computer maker, saw profit fall 32% to $1.1bn (£731m).
The share price rise came on the back of a higher forecast for full-year profits by the company.
HP's troubles have prompted it to undertake a cost-cutting drive involving thousands of job losses.
The company is in the process of cutting the headcount by 27,000 by May 2014.
HP has struggled to increase sales of its PCs as customers continue to switch to smartphones and tablet computers, particularly those produced by Samsung and Apple.
HP's chief financial officer said that the firm's better-than-expected results in the enterprise services business and printing unit had been positive and had helped improve profit margins.
Old regime
Last month the company announced a boardroom shake-up that included its chairman Raymond Lane stepping down.
Mr Lane was re-elected by only 58.8% of shareholder votes at the company's annual meeting.
He was the most prominent casualty of the acquisition of British software company Autonomy, much of the value of which has now been written off.
HP paid $11bn (£7.2bn) for the company and critics said not enough due diligence was done before the firm was bought.
Those allegations are currently being looked into by the US Department of Justice, the UK's Serious Fraud Office and the UK accounting regulator.