Ford plans to shut all Australian production by 2016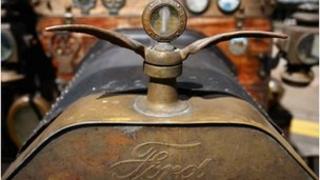 US car giant Ford Motor will shut all its Australian manufacturing plants by October 2016, after more than 85 years of making vehicles in the country.
About 1,200 workers are expected to lose their jobs from the Broadmeadows and Geelong plants, in Victoria state.
Ford said its Australian operations had lost A$600m ($580m; £385m) over the last five years.
The strength of the Australian dollar has made manufacturing more expensive, while sales have been under pressure.
"Our costs are double that of Europe and nearly four times Ford in Asia," Bob Graziano, the chief executive of Ford Australia, said. "The business case simply did not stack up."
He added that "manufacturing is not viable for Ford in Australia in the long-term".
'Devastated'
Ford said that it would still import its cars into Australia.
Leigh Diehm from the Australian Manufacturers Workers Union (AMWU) told ABC News that its members in both sites were "devastated by the news".
"We will be sitting down with Ford this afternoon working our way through and talking to our members on the two sites over the coming months and years."
Mr Graziano said Ford had looked at all other possibilities before making this "difficult" announcement.
The Australian dollar has risen 29% against the Japanese yen over the past year, making Australian products much less competitive.
That has had a negative impact on the local car manufacturing industry as a whole.
Last year General Motor's local subsidiary, Holden, announced it would cut 500 jobs from Victoria and South Australia because of slowing demand and the high dollar.
The Australian government last year announced a $5.4bn fund to support the car industry, including $34m to Ford to continue production until at least the end of 2016.
Ford began manufacturing in Australia in 1925 with the Model T cars in Geelong.