Mothercare reports another big loss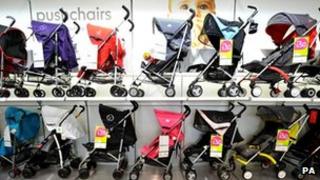 Mothercare posted another big loss in the last financial year, but the UK retailer said it was making good progress with its turnaround plan.
It recorded a pre-tax loss of £21.5m for the 12 months to the end of March, though that was better than a £103m loss a year earlier.
The group has about 1,300 stores worldwide, including 255 in the UK.
It is in the midst of a turnaround plan, headed by chief executive Simon Calver, who took over last year.
Speaking on the BBC's Today programme, Mr Calver said UK profitability had improved, and the international business continues to grow.
When certain one-off costs are stripped out, the group made an underlying profit of £8.3m, but that was the result of its more profitable international business.
Even stripping out one-off costs, the UK business still lost £21.7m.
Sales outside the UK make up around 60% of Mothercare's business.
International like-for-like sales grew 5.6%. But sales in the UK continued to fall, dropping 3.6%.
Mothercare trades under the Mothercare and Early Learning Centre brands in the UK.
Its turnaround plan saw the closure of 56 UK stores last year, part of plans to close a total of 100 stores.
Mr Calver said Mothercare needed around 200 stores on UK high streets to remain a national brand.