Tata Steel posts loss due to weakness in Europe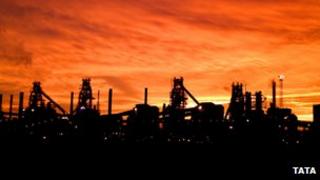 Tata Steel, one of the world's biggest steelmakers, has posted a net loss in the fourth quarter, blaming weakness in Europe.
It made a loss of 65.29bn rupees ($1.2bn; £780m) in the period from a profit of 4.33bn rupees a year earlier.
It warned that demand in Europe is expected to remain "severely depressed" for some time.
Last week, the company announced a $1.6bn writedown on the value of its European assets.
Revenue rose 1% to 341.8bn rupees in the January-March period from a year earlier, it said. Analysts had expected a profit of 3.64bn rupees on sales of 350bn rupees.
"Europe's economic deterioration last year reversed the modest recovery in European steel demand that had been going on since 2009 and our deliveries fell as a consequence," said Karl-Ulrich Koehler, chief executive of Tata Steel Europe.
Its UK operations include works at Scunthorpe, Port Talbot and Rotherham. The company paid $13.7bn for Anglo-Dutch steelmaker Corus in 2008.
The writedown announced last week underlines the slowdown in European economies and overcapacity in the steel market.
In February, Tata Steel's European operations reported a £50m loss, and last year almost 500 jobs were shed at the Port Talbot steelworks. The company employs about 33,000 people in Europe, of which more than 18,000 work in the UK.
The company said that European steel demand fell by nearly 8% last year, "which in aggregate results in almost 30% since the emergence of the global financial crisis in 2007".
Tata Steel is part of the huge Tata Group, whose interests stretch from tea, aircraft charters, hotels, and cars, including the UK's Jaguar Land Rover.