ECB's Mario Draghi spots 'encouraging' UK economy signs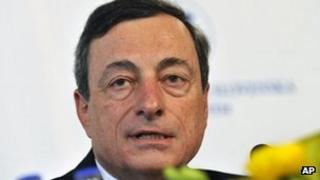 European Central Bank (ECB) president Mario Draghi has said he sees "encouraging signs of tangible improvements" in the UK economy.
Mr Draghi pointed to three of the weaker eurozone economies - Ireland, Spain and Portugal - saying they had made "impressive" improvements in their export performances.
He said that bank lending remained "anaemic" but that, too was improving for businesses and households.
He was speaking on a visit to London.
Despite his mildly upbeat tone, Mr Draghi's ECB this month cut eurozone interest rates to a record low and latest figures show most of the eurozone economies are shrinking.
Even Germany, the strongest, barely experienced any growth in the first three months of this year.
Despite the cut, the euro as a currency has remained steady and Mr Draghi said the markets were "fully confident that the euro is a strong and stable currency".
He was speaking almost a year after he gave a speech which said he would do "whatever it takes" to save the euro, the one comment among many that seemed to stabilise confidence in the region which had been buffeted by investment sell-offs.
Mr Draghi said: "The answer to the crisis has not been less Europe but more Europe."
Politics
He was alluding to the current political debate within the UK about its membership of the European Union.
The UK Prime Minister, David Cameron, has promised to renegotiate its role within the EU and hold a referendum on membership before the end of 2017, should his Conservative Party win the next general election.
Mr Draghi said both sides would benefit from closer understanding: "What I can say is that Europe needs a more European UK as much as the UK needs a more British Europe "
He also urged action on creating a Europe-wide agency that had powers to restructure damaged banks, something that would shift the burden of support away from national governments.