Manchester United cuts debt costs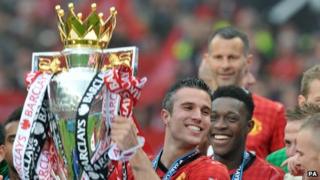 Manchester United has struck a new loan deal to cut the amount of interest it pays on its huge debts.
The Premier League club, which is owned by the Glazer family, has refinanced £178m of outstanding debt, a move that should save it £10m a year.
The Glazers bought Manchester United in 2005, taking out hundreds of millions of pounds' worth of loans to fund the takeover.
That has prompted concerns over the financial stability of the club.
It still has about £307m in debts, but has continued to enjoy on-field success under the Glazers, with five Premier League titles and one Champions League victory.
The club has also spent significant amounts of money on big name signings, including Robin van Persie from Arsenal last year.
Its finances continue to be bolstered by TV revenues. In the 2012-13 season, it is reported to have made more than £60m - more than any other club.
The refinancing deal has been struck with Bank of America and means that interest rates on the loans of between 8.75% and 8.38% will be cut to a variable rate.
Last year, the club paid about £50m in interest alone.
David Bick, chairman of Square1 consulting, told Radio 5 live that the deal meant Manchester United would now be paying off their debts "on more reasonable terms".
He said the club still had "a long way to go" in paying off its debts, but said the Glazers appeared to have made the most of the club's global presence, which has drawn revenue in from places such as East Asia.
"It's a massive global brand, they have extracted commercial income from all corners of the globe," he said.