Second RBS apology for banking app glitch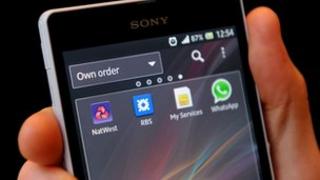 RBS has apologised for the second time in two months after customers were unable to log in to their accounts through their mobile phone app.
Many customers of the RBS Group, which includes NatWest and Ulster Bank, were unable to use the app for two and a half hours on Friday.
A similar problem occurred at the end of March, when the app's users were unable to check their accounts.
RBS is 81% owned by the taxpayer. About two million customers have the app.
A week ago, RBS announced that it was cutting 1,400 jobs in its retail arm as it moved investment into "things that matter most to customers", including mobile and online services.
Earlier this year, the bank unveiled a new mobile banking feature called Pay Your Contacts, which allows RBS and NatWest customers to send payments of up to £100 to anyone with a Visa card by entering their mobile number.
Last summer, millions of RBS customers were affected by a software issue.
A spokesman for the consumer group Which? said: "Consumers increasingly use mobile banking services to access their accounts and will want to be assured that their money is accessible and safe at all times.
"These frequent glitches continue to raise questions about how robust and reliable banks' IT systems are."
RBS confirmed that the app was now back up and running.