Premium line regulator to look at BT directory enquiries service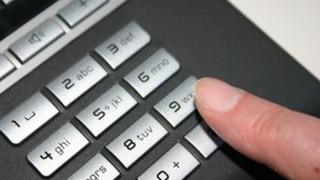 The premium line regulator Phone Pay Plus is looking into BT's 118 500 service to check it complies with its code of conduct.
BT told BBC Radio 4's You and Yours programme it had added eight seconds of extra information to the call length.
The BBC requested the same number from five different 118 services 10 times each and measured the average length of call.
BT said they had added more information to offer customers a better service.
The companies rung by the programme were 118 500 (BT), 118 212 (Maureen), 118 119 (owned by 192.com ltd.), 118 118 (The Number) and 118 247 (from hibu, which also runs Yellow Pages).
All the directory numbers have a connection fee, after which they charge differently, some by the second, others by the minute.
Calls become expensive, however, if they round up to the nearest minute.
Charges
The BT 118 500 connection charge is 79p, then £1.99 per minute, but if the call lasts 61 seconds, two minutes are charged.
Maureen, 118 247 and 192.com bill in the same way, although Maureen is £1.79 a minute, 192.com charges 99p a minute and 118 247 is 70p a minute. It does however charge the highest connection fee - £1.50.
118 118 charges by the second after the first minute.
The programme found Maureen to be fastest with an average call time of 39 seconds. 118 118 was next - with 47 seconds.
192.com's service took 50 seconds, and 118 247 calls on average lasted 52 seconds. The slowest service, by some distance, was BT, which took on average one minute and 44 seconds to provide the number.
Mobile networks operate their own directory services and charge between 85p and £1 on the main networks. Call another network and the call can be £3 a minute.
David Hickson from the Fair Telecoms Campaign advised dissatisfied customers to contact the regulator, saying: "They have a clear right to ask for their money back."
Phone Pay Plus added: "Our code of practice is clear that services should be delivered without undue delay. We are looking into the service that is offered on 118 500 to ensure there is no undue delay to the call."
BT said: "We have recently increased the amount of information in the introduction to 118 500 that callers hear before they speak to an adviser. We have done this to help customers get the best out of the service. It adds only eight seconds to the length of a call.
"We know from our own independently conducted research that 118 500 is more accurate than our rivals, so our customers can rely on our experienced operators in UK call centres to find the number they want."