Korea Electric Power shares fall on nuclear reactor shutdowns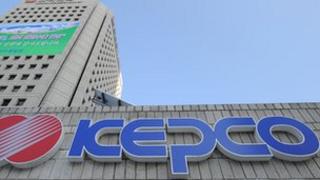 Shares in Korea Electric Power have fallen to their lowest level in more than five months after two more of its nuclear plants were shut over the use of unauthorised parts.
Shares fell 5% on Wednesday on concerns the plant closures will hurt profits.
South Korean officials said the use of faked documents meant the reactors were supplied with parts that did not meet international safety standards.
Two nuclear reactors were suspended in late 2012 for the same reason.
South Korea has 23 nuclear reactors which supply about a third of the country's electricity needs.
The government says it will take between four and six months for the substandard components to be replaced.
As a result, South Korea's vice trade and energy minister Han Jinhyun has warned there may be "unprecedented power shortages''.
"There is no means to increase power supply in the short term, so we expect we need to lower demand considerably to weather the crisis,'' he said.
The Associated Press agency reported that Mr Jinhyun said the government would launch a probe and possibly sue Korea Electric Power.