B&Q owner Kingfisher sees profits hit by cold weather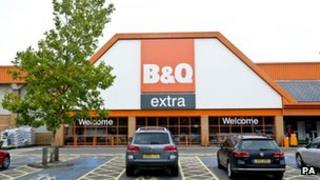 The owner of B&Q, Kingfisher, has said first-quarter profits fell by nearly 30% after trading was affected by weak demand and the cold weather.
Retail profits at Kingfisher, which also owns Screwfix in the UK and Castorama in France, fell to £114m for the 13 weeks to 4 May.
Like-for-like sales, which exclude new store openings, fell by 4.2%.
B&Q saw like-for-like sales drop 5.6%, with sales of outdoor goods down 10% as the cold weather hit.
Kingfisher is Europe's largest DIY retailer. In addition to the impact of the cold weather, the company has also been hit by weak consumer confidence in its main markets.
As well as sales of outdoor products being hit at B&Q, the company said that sales of building products were also hit by the poor weather. Bathroom sales were also down, but kitchen sales put in a "solid performance".
Last Updated at 19 Jan 2018, 16:21 GMT
*Chart shows local time
price
change
%
336.10 p

-

-7.90

-

-2.30
"Market conditions have remained challenging in the first quarter, compounded by the effects of an early Easter and unseasonably cold weather across Europe," said Kingfisher chief executive Ian Cheshire.
"As a result, general footfall was down and demand for outdoor maintenance, gardening and leisure products was adversely affected for a second year running."
Mr Cheshire said most of the fall in profit had come in March, when the impact of the weather was "particularly acute".
However, he said trading had picked up towards the end of the quarter as the weather had improved.
Shares in Kingfisher fell by about 2% initially, but then recovered. By the close of trading, its shares were 6.7% higher at 349.70p, making it the top gainer on the FTSE 100.
Richard Hunter, head of equities at Hargreaves Lansdown Stockbrokers, said: "Not only was profit significantly lower than the corresponding period last year, even that figure was far shy of market expectations.
"The importance of the summer season now becomes more marked for the company, and any continued downturn in the weather will put extra pressure on the shares."