Indians struggle with higher prices and fewer jobs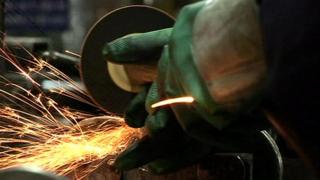 India's economy has slowed rapidly recently and there is little sign of a quick recovery.
Until two years ago the country was recording 9% annual growth but now the figure is around half that.
Indians are having to cope with rising prices and high interest rates, even as wages and job prospects for those entering the labour market are taking a hit.
The country's manufacturing sector has been significantly affected, and for businessmen such as Ajay Modi, who runs a small factory making car parts in Mumbai, times are tough.
"Since last year demand has definitely gone down very badly," he told the BBC's India Business Report.
He says that inflation has had a significant impact on his costs, with the price of steel doubling over the past decade from around $440 a tonne to just under $1,000.
The government in Delhi is not helping the country's manufacturers, he says. Indian firms are being forced to pay too many different types of taxes, which is hitting their competitiveness, even in their home market.
"We are looking at Chinese raw steel imports because... the Chinese and Russian plants are far cheaper, more than 20% cheaper, even after paying the import duty."
To keep up with developments in the car industry, Mr Modi wants to invest in new machine tools.
"Before that we must get some assurance from our buyers, but they are not in a position to give any assurance beyond one quarter [three months]."
Part of the problem, he says, is that for all its promises Delhi is not doing enough to support small manufacturers like him.
"At present, small entrepreneurs and medium scale industry are looking to the government for more co-operation but the government somehow neglects these industries.
"The government should follow the footsteps of the Chinese development programme for small and micro businesses."
'Nothing much happening'
His views on the Indian government's recent track record are echoed by Baba Kalyani, chairman of Pune-based Bharat Forge, which has plants in Europe, the United States and China, as well as India.
"The whole investment pipeline has kind of got frozen, largely because of governance issues. Projects are getting stuck in various approval processes."
Since 2012 the Indian government has announced several measures to try to revive the economy, but observers are waiting to see if Delhi will actually be able to implement these.
Prime Minister Manmohan Singh's coalition government has been weakened by a series of corruption scandals.
These have been used by opposition parties to stymie government policies ahead of a national election which must be held within a year.
"Fundamentally, on the ground, nothing much is happening," says Baba Kalyani.
India's growth is still outpacing the US and Europe, but it is at its weakest in a decade and is being overtaken by China and Indonesia.
"Look at our peers in Asia, I think they are doing much better than us," says Dharmakirti Joshi, chief economist at the Indian credit ratings agency CRISIL.
"I think some of these economies have bounced back to their pre-crisis rate of growth, whereas we are much below our pre-crisis rate of growth."
Only 'perfect candidates' wanted
Crucially, India needs high growth just to create jobs for new entrants to the labour market.
Its population of 1.2bn people is growing at 1.4% a year, almost three times the rate for China.
Ajay Modi's son, Viraj, a 22-year-old production engineering graduate, finished university last year and is now set to leave the country.
"I plan to do a masters in industrial engineering in the US."
One factor in his decision to study abroad is India's weakening job market. The slowing economy means that there are fewer job opportunities compared with a year ago.
"Companies now want a perfect candidate. Because of the global recession they are cutting down the job opportunities," he says.
It is a point also made by Waqar Azmi, chief executive of recruitment agency Sutra Services.
"If you go back to late 2011-12, virtually everybody could easily get a job.
"Today you have to be really good... to get a good job.
"Mediocre people, and people who are probably average, have been phased out."
There have been fresh investments in India in recent months by some global companies, but most economists say it is far too soon to determine if India is yet on the road to strong growth.
You can watch India Business Report every Sunday at 05:30 GMT on BBC World News