Wine and timber investment schemes face new rules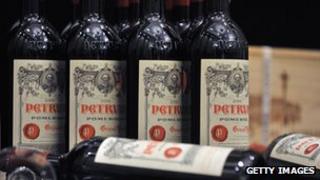 The promotion of some types of risky investment schemes, which put money into products such as wine or timber, is to be more tightly controlled.
The Financial Conduct Authority (FCA) has announced new rules that will prevent such schemes being promoted to ordinary investors.
The schemes pool money to invest in products such as wine or agricultural crops.
They are known as Unregulated Collective Investment Schemes (UCIS).
The FCA says such schemes are too risky for ordinary "retail" investors, and their promotion is to be restricted.
Similar products, known as Non-Mainstream Pooled Investments (NMPIs), will also be controlled.
The FCA said that ordinary investors put £2.5bn into such investments last year.
But from now, such schemes can only be marketed to "sophisticated" or very wealthy individuals, for whom they are likely to be more suitable.
Volatile prices
"Consumers have lost substantial amounts of money investing in UCIS and similar products in recent years, so the need to introduce new rules to prevent this from continuing was essential," said Christopher Woolard, the FCA's director of policy risk and research.
The FCA warned that UCIS products sometimes appear to offer better returns, with less volatility, but are often actually higher risk investments.
They can be difficult to sell, and difficult to value. Prices can also be volatile.
Other products have been excluded from the new rules.
These include venture capital trusts (VCTs), offshore investment companies and exchange traded products.
The move to keep these products within existing rules has been welcomed by the Association of Investment Companies (AIC), which represents the industry.
"We very much appreciate confirmation of the FCA's policy intention to exclude VCTs and offshore investment companies from the marketing restrictions," said Ian Sayers, the AIC's director general.
"This is important for the investment company sector and allows ordinary retail investors to continue to access the benefits of VCTs and offshore investment companies," he said.