Cook & Go: The cookery classes backed by angels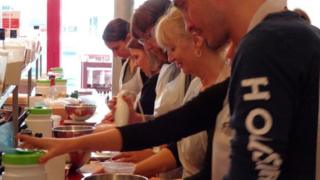 When Jean-Christophe Menz was 26 he went to the bank and asked them to lend him 170,000 euros ($225,000; £144,000) to open a shop in Lyon offering cookery classes - and he got the money.
Of course, this was in 2006, before the financial crisis.
"It would not be possible today because the economic situation is not that good and banks are not always prepared to lend money to inexperienced entrepreneurs," he says.
At the time, he was indeed inexperienced, although he had known for a long time that he wanted to start his own business.
When he left business school he didn't feel ready to start on his own yet, so he went to work as a sales representative for the French food giant Danone for three years.
"I learned a lot because every day I was in supermarkets meeting customers and finding out what's going on in real life, and not in the Harvard Business Review that you study at business school," he says.
After that he spotted a gap in the market.
Fresh ingredients
"I always enjoyed having friends round for dinner with me, but at the end of my studies I didn't really know how to cook and I said to myself 'there is nowhere I can learn easy cooking to share with my friends' and that is why I started Cook & Go," he says.
The idea of the business is to teach simple home-cooking, instead of the gourmet techniques taught at many other cookery schools.
Each session lasts 90 minutes, during which time participants are taught to prepare a three-course meal, which they can then take home.
The shops are colourful and friendly, with 20 well-equipped workstations set along either side of a refrigerated trough containing fresh ingredients.
The first location in Lyon was profitable in two years, at which point Jean-Christophe started looking for funding to open a store in Paris, but by then the financial crisis had happened.
He says the financial crisis was good for his business because Cook & Go courses are priced to undercut restaurant meals.
But the crisis did create problems with funding, so instead of going to the bank, Jean-Christophe approached business angels, who are individuals looking for investment opportunities.
He raised 350,000 euros ($463,000; £297,000) with them in 2009 to open two stores in Paris, followed by 800,000 euros ($1,058,000; £680,000) in 2010 to open shops elsewhere in France, and another 800,000 euros in 2011, which allowed him to open a shop in New York in 2012.
"Business angels invest in someone they trust, because they don't want to lose their money, and they want to be interested in the project and to understand it," he says.
"In France there are also measures that are very interesting for business angels in terms of tax deductions."
It is those tax breaks that make investing in small businesses so attractive in France.
Jean-Christophe says that a top-rate taxpayer investing up to 50,000 euros ($66,000; $42,000) in his business before 2012 could have written off 75% of the investment against tax, which meant that as long as the business did not reduce in value by more than three quarters the investors would not lose money.
In 2012 that figure was reduced to 50%.
Nonetheless, he says it means that the demands on him from his investors are relatively limited.
Rising costs
With 50 full-time staff, 13 owned or franchised shops around France and his shop in America, Jean-Christophe is now outgrowing business angel funding.
He says that is a problem because money from investment funds, which are the next step up, is harder to find in France than it is in the UK or the US.
Also, his company has reached the size at which support from the government declines.
Once a company has more than 50 staff it has to pay more social taxes and allow trade unions to appoint employee delegates to negotiate agreements on pay and conditions.
"The French government is very useful when you are a small entrepreneur, when you try to begin your company, then you have very good measures to help you start your business," he says.
"But when you have been growing and you try to take steps to become bigger, then it's very difficult - labour costs become bigger and bigger as your company grows."