German central bank cuts growth forecasts for 2013 and 2014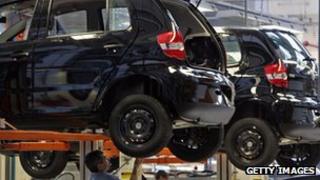 Germany's central bank has cut its growth forecast for the country, but says the outlook for the economy has "become brighter".
The Bundesbank expects the economy to grow by 0.3% this year, down from an earlier forecast of 0.4%.
In 2014, it expects 1.5% growth, down from a previous estimate of 1.9%.
The Bundesbank suggested that the worst could be over for the eurozone, saying that in the euro area "the economy appears to be bottoming out".
"Nevertheless, the Bundesbank sees continuing structural problems as standing in the way of a rapid improvement," it added.
"This is likely to place a major strain on the German economy."
Rate boost
The German economy has proved relatively resilient in spite of the eurozone crisis, but shrank late last year and only narrowly avoided a recession earlier this year.
The latest cut in growth forecasts was "due mainly to downward revisions with regard to the external environment", the Bundesbank said.
But the central bank added that it expected a recovery later this year, supported by a relatively robust labour market, a sharp increase in wages and easing inflation.
Bundesbank economists said residential construction and commercial investment were benefitting from low interest rates.
They also said falling crude oil prices were expected to push down consumer price inflation, which is good news for households.
Germany escaped a recession in the first quarter of the year thanks to an increase in private consumption, which had offset a fall in exports.
But Bundesbank president Jens Weidmann warned: "Much will depend on whether the economic situation stabilises in the euro-area crisis countries and whether expansionary forces will gradually gain the upper hand there."