Etihad tightens grip on India's loss-making Jet Airways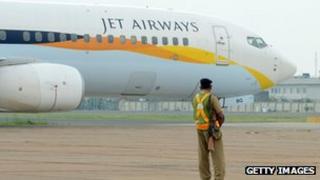 The boss of Jet Airways, the loss-making Indian airline, has resigned, the company said.
The resignation of chief executive Nikos Kardassis was effective from 5 June, the company announced.
He has been replaced by chief operating officer Hameed Ali until a permanent replacement is found.
Jet did not give reasons for the resignation but observers believe new shareholder Etihad Airways has been keen to push through board changes.
The revamped board will comprise four Jet directors and three Etihad directors.
In April, United Arab Emirates-based Etihad bought a 24% stake in Jet, India's second-largest airline, in a deal worth $379m (£248m).
Jet has about a fifth of the Indian commercial aviation market but has been suffering from rising running costs of late and posted net losses of 4.96bn rupees (£55m) for the three months to March.
Etihad's deal was the first foreign investment in an Indian airline since the government eased foreign ownership restrictions in September 2012.
Foreign firms can now own up to 49% of domestic airlines, as India tries to free up its markets and attract inward investment.
Etihad has been expanding rapidly after taking stakes in a number of national airlines, including Air Seychelles, Air Berlin, Virgin Australia and Aer Lingus.
These partner airlines now contribute about 19% to Etihad's passenger revenues.
In February, Etihad reported a tripling of net profits to $42m for 2012, up from $14m in 2011.