Easyjet agrees Airbus deal for 135 new planes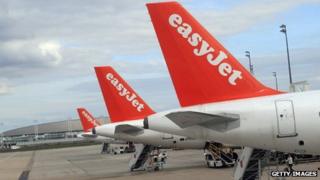 Easyjet has agreed to buy 135 new aircraft from Airbus, in a deal announced on the second day of the Paris Air Show.
The budget airline has signed a deal to purchase 35 A320 aircraft and 100 new-generation A320neo jets.
At list prices, the planes should cost the carrier in excess of $11bn (£7bn), though Easyjet claimed it had negotiated a "substantial discount".
Both Boeing and Airbus have been competing to win the Easyjet deal.
"Ultimately, Airbus offered us the best deal, and at a price with a greater discount to the list price than their landmark fleet purchase with Easyjet in 2002," said Easyjet chief executive Carolyn McCall.
The UK-based airline plans to buy around 70% of the new aircraft outright and lease the remainder through third parties.
Easyjet has also agreed an option to buy an additional 100 A320neo jets in the future.
Eighty-five of the 135 new aircraft will be used to replace ageing models, with the remaining used to fulfil Easyjet's ambition to grow seat capacity by 3-5% per year.
The A320 aircraft will start to be delivered from 2015, with the new-generation jets to come into service between 2017 and 2022.
The A320 carries around 180 passengers, compared to the A319 that Easyjet largely uses at the moment, which seats 156 passengers. The new planes are more fuel efficient.
However, the deal has not been received positively by Easyjet's founder and largest single shareholder, Sir Stelios Haji-Ioannou. Hehas argued in the past that the company should be returning money to shareholders through dividend payments, rather than increasing seat capacity.
Sir Stelios said that the deal "raises more questions than answers" and has called for more details on the exact price paid for the new aircraft and the additional profit that it will deliver.