BT complains to Ofcom about Sky Sports TV supply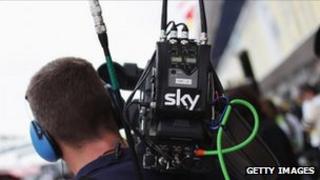 UK telecoms regulator Ofcom is to launch an investigation into BSkyB over the supply of its sports channels to rival broadcasters.
It comes after a complaint by BT, which is challenging Sky's dominance of the UK's sports pay-TV market.
The probe will look at the terms on which Sky has offered its sports channels, Sky Sports 1 and Sky Sports 2, for BT to then offer via YouView.
BT says the terms are an abuse of Sky's market dominance.
It says Sky is making the supply of its two sports channels conditional on BT in turn making its own sports channels available to Sky.
"We are pleased Ofcom has decided to open an investigation as we believe Sky has behaved in an unreasonable and discriminatory manner," said BT.
"This is because they have refused to provide Sky Sports 1 and 2 to BT on YouView on fair terms whilst providing them to other pay-TV retailers such as TalkTalk."
BT has asked for Ofcom to consider bringing in interim measures, and has asked for a decision by the end of July as the Premier League season kicks off on 17 August.
BT has been signing up live sports rights, including 38 Premier League football matches a season, for showing on its three sport channels: BT Sport 1, BT Sport 2 and ESPN.
Its channels will also show 69 live Aviva Premiership rugby matches per season, plus live football from leagues in Germany, France, Italy and Brazil.
BT's move into the sports pay-TV market comes after Sky's expansion into BT's territory by offering broadband and telephone services in recent years.
Sky said it considered BT's complaint to Ofcom to "be entirely without merit".
"We look forward to engaging constructively with Ofcom," Sky said in a statement.
The BT complaint comes a week after Sky complained to the Advertising Standards Authority (ASA) about BT's adverts for its new sports service.
Sky's complaint centres around BT's claim that it will provide "free" Premier League football coverage to its broadband customers, with Sky arguing that there are other costs involved.
The ASA said the complaint was still being assessed.