Housing and business lending diverge, banks' data shows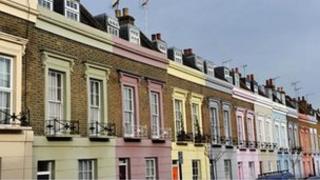 More evidence of momentum in the housing market has emerged from the latest figures from UK banks, but business lending continues to shrink.
The number of mortgages approved in May for house purchases rose by 24% compared with the same month in 2012.
This followed an upward trend since the start of the year, the British Bankers' Association (BBA) said.
However, there was a £1.7bn contraction in lending to non-financial businesses in May, the BBA added.
It said that businesses were using cash as well as equity and bond market funding instead of loans from the major banks.
Among individuals, new unsecured borrowing, driven by credit cards, outstripped repayments slightly in May.
Rates to rise?
The greater appetite for home loans - which has been reported in other data - is highlighted in the BBA figures.
Mortgage approvals for house purchases were up to 36,102 in May. Remortgaging approvals were 17% up on May 2012, reaching 20,675.
Commentators have suggested that mortgage rates could rise slightly in the coming weeks, from current low levels.
Ahead of the release of the BBA figures, floor-covering firm Carpetright reported that UK like-for-like sales had risen by 2.2% over the past year. Its figures are often linked to the health of the housing market.
The company said that it was encouraged by rising mortgage approvals, but added it was too soon "to call a wider recovery in the economy".