BP in court hearing alleging misconduct in oil-spill payments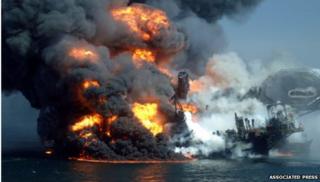 Oil giant BP is back in court in the US to try to limit compensation payouts from a fund set up to help those affected by the 2010 Deepwater Horizon oil spill in the Gulf of Mexico.
BP and businesses are laying arguments before three judges in New Orleans.
The oil giant wants the panel to overturn a federal judge's ruling that upheld a claims administrator's interpretation of the settlement.
The company claims some payments are for fictitious and inflated losses.
It says the administrator has wrongly allowed payments of hundreds of millions of dollars to businesses.
"It's been distorted out of all reality," Ted Olson, counsel for the BP, told the BBC in New Orleans.
"Anyone else will think twice about entering into such a settlement."
But lawyers representing plaintiffs say that BP underestimated how many claims it would have to meet.
And claims administrator Patrick Juneau says he is just following the terms of the agreement.
"All I'm implementing here is what BP and its plaintiffs agreed to," said Mr Juneau.
Abuse
Last week it was revealed that a former FBI chief, Louis Freeh, would look into claims of misconduct relating to the payments.
BP, which has warned that the compensation system is being abused, welcomed the appointment.
The explosion of the oil rig killed 11 workers and released an estimated four million barrels of oil into the Gulf and along the coastline.
BP put aside $7.8bn (£5.2bn) when it agreed to pay compensation in 2012, but the company has become increasingly concerned that the final figure would be much higher.
BP said in its statement that Mr Freeh had been granted "wide latitude" to look for other possible misconduct within the Court Supervised Settlement Program.
BP has no control over its payments to claimants having agreed to a compensation formula and framework.
Looking east for help
BP recently revealed that it has asked the UK government for help in overturning the settlement agreement.
The company has already warned in its most recent earnings note that the $8.2bn it has set aside to cover compensation payments will be "significantly" too little. It warned that the amount that it might be forced to pay out "is uncapped except for economic loss claims related to the Gulf Seafood industry."
Mr Juneau - the Deepwater Horizon claims administrator - says he's received more than 184,000 claims and that he's seen a notable uptake in claims from businesses in the last few months.
He likened the process of adjudicating claims to walking through a minefield.
"I've seen those words in ads and statements," Mr Juneau said, but argued that "none of those words are in the settlement agreement I'm administering here."