Pound falls after unexpectedly weak manufacturing data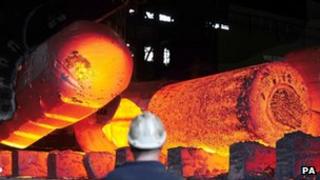 The pound has hit a three-year low after UK manufacturing unexpectedly fell in May.
It contracted by 0.8%, the fastest pace since January, official figures show. Most analysts had predicted a rise.
The figures run counter to data released recently that has indicated the economy picking up.
As a result, the pound dropped sharply against the dollar, falling by nearly 1% to $1.4814. That is the lowest level since June 2010.
Growth hopes
The latest manufacturing numbers contrast with a survey of the sector published last week, which indicated it recorded its best growth for nearly two years in June.
Other surveys published last week pointed to continuing strength in the services sector, and a rise in confidence across UK businesses.
The National Institute of Economic and Social Research (NIESR) has estimated that the strong growth being seen in the services sector means the UK economy as a whole grew by 0.6% in the second quarter of the year. That compares with 0.3% growth in the first three months of the year.
NIESR says that while the recession may technically have ended, the period of depression, which it defines as a period when output is depressed below its previous peak, will continue for some time. The institute does not expect output to pass the peak recorded in early 2008 until 2015.
Last Updated at 05 Jan 2018, 09:34 GMT
*Chart shows local time
£1 buys
change
%
1.3530

-

-0.00

-

-0.16
'Weak' momentum
Commenting on the latest Office for National Statistics (ONS) manufacturing figures, Lee Hopley. of the EEF manufacturers' organisation, said: "Output gains in electrical equipment and transport sectors weren't enough to offset bigger contractions in pharmaceuticals and metals.
"We did, however, see some growth in exports and signs of stabilisation in Europe providing a slight lift for overseas sales.
"While the ONS data suggest industry's contribution to growth in the second quarter is likely to be limited, there are signs that confidence is returning and growth should start to resume as we move into the second half of the year."
The wider measure of industrial output was unchanged.
David Tinsley from BNP Paribas said: "Overall, this is not a strong set of data.
"The momentum behind manufacturing remains disappointingly weak, which is troubling, given the economy needs to do more to rebalance towards sectors where it can hope to find demand for its exports."
Separate figures showed that the trade deficit widened in May - also adding to economists' concern. The ONS said the UK deficit grew to £8.491bn in May from £8.430bn in April.
"The overall trade deficit is slightly up, but the April figure was revised down, which paints a mixed picture. Worryingly, the volume of exports in goods fell while imports increased," said David Kern, chief economist at the British Chambers of Commerce.
"Overall, our trade deficit is still too large, and we are not making fast enough progress in rebalancing our economy towards net exports," he added.