State pension reform 'will hit the young'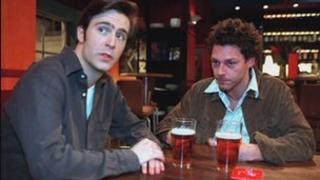 Young people will lose out the most from planned reforms to the state pension, a think tank has warned.
The Institute for Fiscal Studies (IFS) says that people born after the mid-1980s could get thousands of pounds less a year from the state pension.
The government is planning to introduce a simpler, single-tier state pension from 2016.
The IFS found that people close to retirement were likely to benefit the most from the planned change.
It said the biggest gainers were likely to be those who have spent long periods out of work or doing low-paid work, including women nearing retirement who have raised children.
The long-term self-employed will also see their state pensions rise under the changes.
But most people currently in their late 20s or younger will lose out because the new system is less generous for them.
Improved clarity
The plans involve replacing the current two-tier state pension with a single-tier pension set at about £146 a week.
The IFS predicts women on average will be £5.23 a week better off as a result of the change, compared with £1.62 for men.
People who have been self-employed for 10 years will be £7.51 a week better off.
But the IFS estimates that someone born in 1986 can expect to receive £1,000 a year less when they retire if they are a low-earner, while high earners could get £2,300 less.
"The single-tier pension proposals will boost the state pension entitlements of some of those who are close to state pension age, particularly those who have spent time caring for children or who had long periods of self-employment," said Soumaya Keynes, one of the report's authors.
"However, for most of those now in their 20s and 30s, although these reforms should make it easier for people to predict how much state pension income they will get, the reforms will also reduce the state pension income that they can expect to get."
Ms Keynes told the BBC: "Someone born in 1986 with low earnings and 35 years of National Insurance contributions would receive £167 of entitlement at the state pension age, whereas under the [new] single-tier system they would expect to receive £146."
Steve Webb, the Pensions Minister, said the changes would improve clarity for young people, and benefit those who have been disadvantaged by the current system, such as women and carers.
"I also welcome the fact that the report reflects that the vast majority of individuals approaching retirement will see a higher state pension over the course of their retirement.
"Younger people will have the advantages of knowing they will get a simple, clear state pension, and when they are employed, have the right to an occupational pension on top."