ArcelorMittal scraps steel plant in India on land delay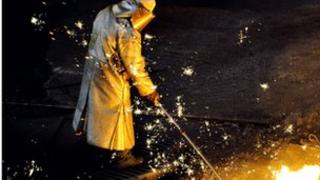 The world's largest steel company, ArcelorMittal, says it has abandoned plans to build a steel plant in eastern India because of problems acquiring land.
Initially agreed in 2006, the company was to manufacture 12 million tonnes of steel a year in Orissa state.
But farmers who oppose the purchase of their land have protested.
The move comes a day after Korea's Posco scrapped a $5.3bn (£3.5bn) plan for a steel plant in southern India.
"ArcelorMittal has not been able to acquire the requisite land for the steel plant, nor has it been able to ensure captive iron ore security, which is a necessary requirement for the project," the company said in a statement.
"Therefore, taking into account the current economic climate, ArcelorMittal has concluded it will no longer be pursuing its plans for a steel plant in Keonjhar [in Orissa] at this stage."
The company said it was still pursuing two other projects in Jharkhand and Karnataka states.
Farmers complain that they are being forced to sell land at below market rate.