UK housing market sees meaningful recovery, lenders say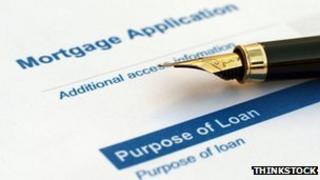 The UK housing market is witnessing a "meaningful recovery", lenders say, but activity among first-time buyers remains well below the boom years.
Gross mortgage lending in June was up 2% on the previous month, and 26% higher than June 2012, the Council of Mortgage Lenders (CML) said.
The total of £14.7bn was the highest level of lending since October 2008.
However, Bank of England figures show the rise in borrowing has not been mirrored among small businesses.
Price forecasts
The pick-up in mortgage lending has been in evidence during the spring and summer months. Gross lending for the second quarter of the year reached an estimated £42bn, the CML said.
This was up 24% on the previous three months, and the highest level since the end of 2008.
"Improvements in the cost and availability of mortgage credit are underpinning a meaningful recovery in the housing market," said CML chief economist Bob Pannell.
"Current positive trends are set to continue for the immediate future."
However, Mr Pannell pointed out that the increased activity did not mark a return to a housing boom similar to that seen in the last decade.
"Although the underlying pace of first-time buyer activity is approaching a quarter of a million per year, it is worth bearing in mind that this is still barely half of activity rates a decade earlier, and so far below what might be considered normal levels," he said.
This view was echoed by analysts, who said that that economic climate was putting the brakes on a runaway market.
"While the lending numbers are the strongest they have been since 2008, this will be a long, slow recovery," said Mark Harris, chief executive of mortgage broker SPF Private Clients.
"Much ground has been lost and lending levels are running at a fraction of what they were at the height of the housing boom."
Government schemes such as Funding for Lending and Help to Buy have put some life in the housing market.
They have also prompted Savills estate agents to amend their house price forecast. It believes that property values will increase by 3.5% this year, compared with its previous forecast of no change, and will go up by 4.5% next year, instead of a predicted 1.5% rise.
Business lending contracts
House buyers may be borrowing more, but there is little sign of increased lending to small and medium-sized businesses. A rise was part of the plan for Funding for Lending, which sees lenders offered cheap funding from the Bank of England as long as this is handed on to homebuyers and small businesses.
The Bank of England's Trends in Lending report, published on Thursday, showed that the stock of lending to businesses contracted by about £4.5bn in the three months to May.
"This decline has continued uninterrupted for four years, and the return of growth to the economy and confidence to business is happening despite, not thanks to, the banks," said Louise Beaumont, co-founder of business finance provider Platform Black.
Lee Hopley, chief economist at EEF, the manufacturers' organisation, said: "In the long run, only a more competitive, dynamic, and diverse funding landscape will sustainably improve credit conditions for small and medium-sized enterprises. This has to start with increasing competition for lending."