Premier Foods, maker of Hovis bread, sees losses narrow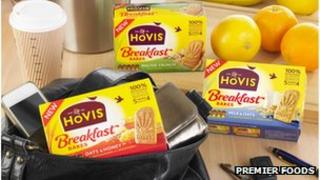 The maker of Hovis bread and Bisto, Premier Foods, has reported that losses narrowed to £23.5m in the six months to the end of June.
In the same period last year, it recorded a loss of £45.8m.
Sales for its bread division rose 8.2% to £356m, but total grocery sales declined by 1%.
Costs for reorganising the business totalled £12.4m, which included the closure of three bakeries and two distribution sites.
In a statement accompanying the interim results, chief executive Gavin Darby said: "We have already completed the actions to deliver the promised £20m of overhead cost savings for 2013 and continue to keep a tight control over costs.
"The restructuring of our bread and milling business is ahead of plan and we are taking the decisions necessary to create a more sustainable platform for this business."