Easyjet shares soar on strong sales and profit outlook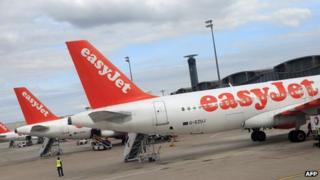 Easyjet shares have risen 5% after the no-frills airline reported a strong rise in second quarter sales and said profits were set to beat expectations.
Sales rose 10.5% to £1.1bn for the three months 30 June, and Easyjet said 73% of its seats for the second half of its financial year have been booked.
As a result, it expects profits of between £450m and £480m for the year to 30 September.
That is up from £317m a year earlier and higher than analysts' expectations.
"Easyjet has delivered a strong performance in the third quarter in a benign capacity environment for Easyjet," said Easyjet chief executive Carolyn McCall.
Analysts agree that the airline is enjoying a strong run.
"It seems that the extraordinary success story, which has been accompanied by a 147% rise in the share price over the last year and in turn promotion to the FTSE 100, looks set to continue," said Richard Hunter, head of equities at Hargreaves Lansdown stockbrokers.
But he pointed out that there are some factors Easyjet cannot control.
"The vast improvement in the local weather may have changed some consumers' plans to holiday abroad and, indeed, prompted a broker downgrade yesterday," he added.
On Tuesday, HSBC had cut its rating on the airline to "neutral" from "overweight".
"We think demand for holiday flights will be melting as fast the ice-creams on Clacton beach in the current heatwave," HSBC analysts said in the research note.