Embattled hedge fund SAC Capital enters not guilty plea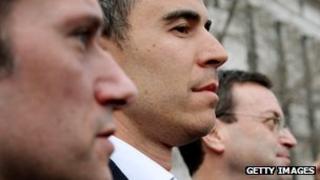 Steve Cohen's hedge fund SAC Capital Advisers has entered a not guilty plea in a New York court, denying insider trading charges.
The plea was entered in Manhattan federal court by Peter Nussbaum, the fund's lawyer.
It comes a day after the company was charged with wire and securities fraud.
Prosecutors say evidence of wrong-doing at the firm is "voluminous", but SAC has said it will continue operating as it fights the charges.
The company has been accused of knowingly allowing insider trading in companies such as Dell for over 10 years.
It is a rare charge against a company as opposed to a specific person - a sign that the US government thinks the wrongdoing was spread throughout the firm.
SAC has said it "has never encouraged, promoted or tolerated insider trading and takes its compliance and management obligations seriously."
The criminal charges came just a week after the Securities and Exchange Commission (SEC) filed civil charges against SAC's billionaire founder and operator Steve Cohen, accusing him of failing to prevent insider trading at the firm.