'No rush' to sell Lloyds shares as bank returns to profit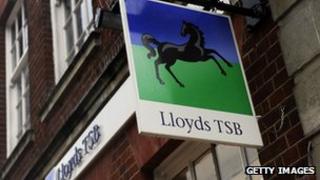 Deputy Prime Minister Nick Clegg has said the government will not be rushed into selling off its stake in Lloyds Banking Group.
His comments came after the bank, 39% owned by the government, said it had returned to profit.
Shares leapt as it announced it made £2.1bn ($3.2bn) in the six months to the end of June, compared with a loss of £456m for the same period last year.
Lloyds' shares jumped 8% to close near a three-year high of 74.1p.
That is well above the price of 61p that Chancellor George Osborne regards as the break-even level.
The government actually bought the shares at an average price of 73.6p during Lloyds' £20.3bn bailout at the height of the financial crisis, but the average market price at the time was 61p.
The government booked the difference as a loss and added it to the national debt.
Speaking about plans to sell the government stake in Lloyds, Mr Clegg said: "You don't suddenly declare when you've heard the latest figures from a bank... that you're going to take this very very big step.
"It's something that you want to do properly and thoroughly but our overall approach is very very clear... we want to put Lloyds back into the private sector.
Share sale
"We want to make sure that taxpayers interests are properly safeguarded and the taxpayer is not short-changed in any way."
The comments echoed Chief Secretary to the Treasury, Danny Alexander, who had earlier said there was no timetable for the sale.
Lloyds said it would be talking to regulators in the coming months about resuming paying a dividend on its shares, which would pave the way for the government to sell off its stake.
It said it had made substantial progress on strengthening its balance sheet, although "further work remains to be done".
The bank's chief executive, Antonio Horta-Osorio, said: "We are now well on track to create a bank with a leading cost position, lower risk, a lower cost of equity, and products and services focused on our customers' needs, to deliver strong, stable and sustainable returns to our shareholders."
However, Peter McNamara, a former head of personal banking at Lloyds TSB and the current chief executive of ATM operator Note Machine, told the BBC that the sell-off would start soon.
Return to profit
"The political pressure, I think, is on for George Osborne to show a deficit reduction and to claim that this has been a profitable management of this bit of the banking sector back into non-state ownership and the state getting refunded, so I think there's good omens for something to happen fairly promptly on that," he said.
Last Updated at 23 Jan 2018, 16:21 GMT
*Chart shows local time
price
change
%
72.12 p

+

+0.16

+

+0.22
Lloyds said its core lending was 1% higher, largely boosted by a 5% jump in net lending to small and medium-sized businesses.
Meanwhile, mortgage lending grew to £14.5bn in the first half, up from £12.3bn in the same six months last year.
The bank said the increase in mortgage lending was helped by the government's Funding for Lending scheme.
It added that growth of as much as 3% in the next year in mortgage lending is expected thanks to the Help to Buy initiative, which seeks to put more people on the housing ladder.
Mr Horta-Osorio also confirmed Lloyds' plan to rebrand 631 branches in the UK as TSB Bank from 9 September.
Following the rebranding, Lloyds will float off the TSB business, which will have its own board and chairman.
The separation of TSB into a separate entity is aimed at coming into line with EU rules on state aid and became necessary after a deal to sell the branches to the Co-operative Group fell through earlier this year.
Bad debts at Lloyds fell 43% to £1.8bn, but the group had to make a further £450m charge to its accounts to cover compensation for the mis-selling of payment protection insurance (PPI).
That means the bank's total bill for PPI related costs has so-far reached £7.3bn.
On the international front, Lloyds' cost-cutting programme continued in the first half of the year.
It has now closed branches and exited from 17 countries, as it looks to focus on its core UK market.
The bank's plan is to be operating in fewer than 10 countries by the end of next year.