'Tax fugitives' list debate deepens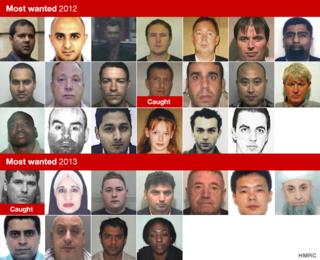 The UK's tax authority has defended the results of publishing a most-wanted list of alleged fraudsters and tax evaders amid criticism from Labour.
HM Revenue and Customs (HMRC) published the names and photographs of people it said had cost taxpayers millions in lost revenue.
Only one of the 20 named a year ago has been caught, prompting Labour to brand the project as a "huge failure".
But HMRC said it was a simple way of gaining useful leads.
Donald Toon, HMRC director of criminal investigation, said that the gallery was a cost-effective way of bringing in valuable information about these people.
He said it was a long process bringing these individuals to justice. Ten more faces have now been added to HMRC's gallery.
He said last year's appeal had helped provide intelligence on 17 of the alleged offenders, many of whom have been through the court process in their absence, while one was arrested.
John Nugent, who was 53 at the time, was caught in the US after the authorities there carried out checks on their systems and found he had overstayed on a tourist visa.
In May, he was sentenced to four-and-a-half years in prison.
The next mugshot to be added earlier this year to the gallery was Anthony Edward Judge, who HMRC said was wanted for his role in more than £250,000 of tax fraud and had been on the run for 10 years after failing to appear at Canterbury Crown Court.
He was detained at Heathrow Airport in July when travelling on a false passport, HMRC said, and has since pleaded guilty to money laundering.
'Relentlessly pursued'
The government said more work was being done to catch tax evaders.
"Tax fraud and evasion are illegal and will not be tolerated," said Chancellor George Osborne.
"Millions of hard-working people pay their taxes and it is they who are being defrauded. The government has stepped up HMRC's enforcement activities to enable them to pursue tax cheats relentlessly around the world."
But shadow Treasury minister Catherine McKinnell said it was a "huge failure" that one year on, so many on the most-wanted list had still not been caught.
"At a time when families are facing a cost-of-living crisis, it's even more important that everyone pays their fair share of tax. The government needs to do better," she said.
A Treasury minister said it was an "unfair assessment" to suggest that the fugitives gallery was more about publicising the government's stance on tax evasion, rather than actually catching people.
"We will pursue them relentlessly wherever they are in the world," Economic Secretary Sajid Javid told the BBC.
He said that the two who had been caught had been on the run for 13 years and 10 years respectively, and added that the conviction rate for tax cheats had risen.
Campaigners have argued that the focus of the tax authority and government should be on tackling legal but aggressive tax avoidance, notably by large companies.
Mr Javid said that of the target of raising £7bn a year in recouped tax by 2015, the majority would come from tackling legal avoidance, rather than illegal evasion.
Chas Roy-Chowdhury, head of taxation at the ACCA accountancy body, said politics should be taken out of the equation. Instead, more resources should be put into HMRC to assist them to catch the suspects.
There was "no silver bullet" to catch these people, and it could take a long time, he added.
New faces
The new list of suspects includes people being pursued for alleged VAT fraud, tax evasion, and money laundering.
Their pictures are being published on the HMRC's flickr channel.
They include one man, wanted for evasion of excise duty, who was involved in a car chase in the Irish Republic. A number of the group could be in the UK, the tax authority said. However, some may be in countries where extradition to the UK is difficult.
HMRC is searching for these people, who have all been identified, and has appealed for help by asking anyone with information to contact Crimestoppers.
The Treasury said that collectively all of those identified cost the Exchequer some £600m in lost tax revenue.