China's Sina in surprise loss after Alibaba deal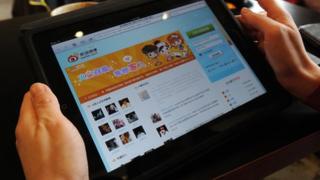 Sina Corp, which runs China's biggest micro-blogging site, posted a surprise loss in the second quarter as it looks to increase its mobile offering.
The company posted a net loss of $11.5m (£7.4m) compared to a profit of $33.2m a year earlier, it said in a statement.
Many analysts were expecting a net profit.
Sina's micro-blogging service has more than 500 million users, with many increasingly looking to access services on mobile devices.
The service has become an important forum for the exchange of opinions and information in China, however, it has not generated huge revenues for Sina.
The company also faces increased competition from rival Tencent, which has launched a hugely popular mobile messaging service called WeChat.
In April, Sina looked to compete by way of a deal with China's largest e-commerce company Alibaba, giving them 18% stake in its Sina Weibo micro-blogging service for $586m. The partnership is expected to generate revenue from advertising and social commerce services for Sina.
However, that meant a one-time charge of $27.1m in stock-based compensation, in the second quarter.
Charles Chao, chairman and chief executive of Sina said in a statement: "Our strategy to diversify Sina's revenue stream to beyond big-brand advertisers and to leverage Weibo's continued traffic growth to develop social and mobile advertising as well as value-added services is placing Sina in a good position for more profitable revenue growth while making heavy investments for the future".