PPI dominates customer complaints to ombudsman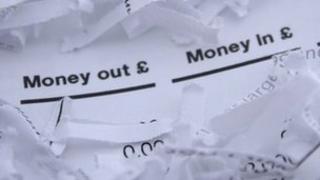 Some 86% of all new complaints made to the UK's financial ombudsman in the first half of the year were about PPI mis-selling - a record high.
The fallout from the UK's biggest financial mis-selling scandal showed no signs of slowing, with 266,228 complaints made in the period.
These cases end up with the ombudsman if there is no agreement between a bank and its customer.
Some customers were facing "unnecessary delays" in receiving payouts, it said.
'Long waits'
PPI - or payment protection insurance - policies are supposed to repay people's loans if their income drops because they fall ill or lose their jobs.
Some people have benefited from the policies, but many were unaware they were even paying for it. Others did not need it or would have been unable to make a claim.
Thousands of people have already been compensated after being mis-sold the policies, and now a huge industry has built up around sorting all the claims that can be made.
There was a 26% rise in the number of PPI complaints to the ombudsman in the first half of the year compared with the previous six months.
The UK's High Street banks have set aside more than £18.6bn to cover the costs of PPI mis-selling, according to consumer group Which?.
The banks' trade body, the British Bankers' Association, has called for a deadline for claims to be made.
However, the financial ombudsman has accused some banks of taking too much time over dealing with customers' PPI claims.
"Disappointingly we are still seeing cases where businesses are not following our long-standing approach to PPI, resulting in long waits and unnecessary delays for consumers," said Natalie Ceeney, the chief ombudsman.
"But, more positively, we are seeing encouraging signs from some major businesses that are starting to recognise the value of getting things right for their customers - with an increased focus on sorting out problems and concerns as quickly as possible."
'In-depth reviews'
There were wide differences in the proportion of complaints that were considered to be justified by the financial ombudsman.
It found in favour of the customer in just 7% of PPI complaints from customers of the Nationwide building society, deciding in many other cases that the policy was not mis-sold.
In contrast, some 90% of customers' PPI complaints about Lloyds TSB were upheld by the ombudsman.
Lloyds Banking Group's customer service director, Martin Dodd, said: "The group continues to proactively manage the issue of PPI complaints in order that customers can receive redress if they have been mis-sold.
"This is an ongoing process and we will continue to review all claims in an in-depth manner that produces fair outcomes for customers."
He said that the bank had fewer PPI complaints in the first half of the year than during the same period a year earlier, and PPI now represented a smaller proportion of total complaints than previously.
Richard Lloyd, executive director at Which?, said: "The Financial Conduct Authority must ensure all banks are handling complaints to a much higher standard, so that it is easier for people with legitimate claims to get back what they are rightly owed.
"There must be tough action against any bank found dragging its feet."