One city's house price surge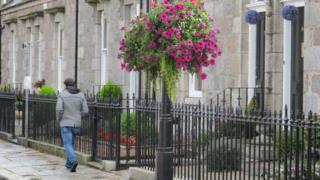 Two cities in the UK - one is a centre of commerce, has runaway house prices, and welcomes a constant stream of overseas property buyers. The other is London.
House prices in and around Aberdeen have more than doubled in the past 10 years, according to data from the Nationwide Building Society.
That increase is only matched by the trendy north London borough of Islington, and by Westminster in the heart of the capital of the UK.
Recent figures show that Scotland's third city is recording a fresh surge in property prices. One estate agent describes the area as a property force field.
"Everywhere outside is doom and gloom, but it is boom time here," says Brian Sutton, of James and George Collie solicitors and estate agents.
Silver city
Take a closer look at Aberdeen, and its picturesque, shimmering granite homes, and you can see the complexity of the UK property market.
The city has demand from first-time buyers willing to pay above valuation levels, interest from workers moving to the area, investors keen to get in on the act, and a lack of homes for sale.
All this pushes up prices. Yet, in Scotland as a whole, prices are only creeping up after years of stagnation.
It shows that averages can be misleading and that local areas can have very different trends to neighbouring regions, for reasons ranging from the quality of local schools to employment levels.
It also questions a widely held belief that the London property market is unique - that soaring prices in the south-east of England are unequalled in the rest of the country.
Oil money
At the mouth of Aberdeen Harbour, next to the fishermen's village of Footdee, is a landmark called the Roundhouse.
The Shoremaster's accounts for 1797-98 show that more than £225 was spent on the new house and telescope on the site.
Nowadays, first-time buyers in the city can expect to pay up to £140,000 for a one-bedroom flat, or up to £500,000 for a bigger property.
Competition for homes means many buyers are paying 5% to 10% over valuation at the moment, says Bill Barclay, partner at Raeburns solicitors and estate agents.
Often sales go to sealed bids, with first-timers stretching their savings to compete with buy-to-let investors.
Spend a few minutes standing by the harbour and the reason for this active property market is clear - North Sea oil.
"It drives the local economy," says Mr Barclay. "Big companies are making long-term financial plans for the area, so we are not going to see much changing."
Overheating market?
The area was not immune to the financial crisis. Banks were not lending at the levels they had been before 2008, but Mr Barclay says Glasgow and Edinburgh suffered much more.
Now, he says - using a phrase apt for an oil-producing region - the banks are "starting to open the taps" again to fund mortgages.
Figures published by the University of Aberdeen show a 25% increase in the volume of sales in the second quarter of the year compared with the same three months in 2011. Prices were up by 5.5% in the city and its suburbs over the same period.
Sales volumes of flats were up by 53% in that time, as buy-to-let investors find the finance and predict demand from tenants.
All this is gloomy news for potential first-time buyers. One 32-year-old tells the BBC he has been renting on the south coast of England and then Aberdeen over the past 15 years and is unable to save anything close to what is needed as a deposit.
You hardly see a sale sign erected within the city's sought-after areas, with supply low and competition picking up. But the market is far from overheating, as it was in 2007, according to estate agent Brian Sutton.
"We had people in their early 20s buying property, with 10 to 20 bidding for one property. Competition has come back, but it is three to four people bidding," he says.
"First-time buyers are in their early 30s, not their 20s, often with their parents helping."
Bubble fears?
He predicts the housing market will continue to rise at a "sustainable rate", especially as the oil companies build headquarters in the area and continue to relocate staff to the region.
Prices may grow by single figures year-on-year, he says, but nobody wants to return to the days of 20% a year increases.
Much the same point was made by Business Secretary Vince Cable when he raised concerns about a property bubble potentially being inflated by government schemes to kick-start the market.
"In London and the south east, in the north-east of Scotland, in other areas, there are serious housing inflationary pressures," he said.
Despite his warning, the second phase of the Help to Buy scheme has been brought forward by three months in England, and the Scottish government has announced the start of its own scheme.
The UK and Scottish governments both argue that Help to Buy, which includes allowing buyers to apply for a shared equity loan for part of the property, are vital to give people the chance to secure a mortgage from risk-averse lenders.
Buyers only qualify under the Scottish scheme if they are buying a newly built property.
Critics might argue that they should encourage the developers to follow the example of the fishermen's cottages at Footdee - where the front doors face inwards to protect occupants from incoming storms.
House price calculator
Use our calculator to see where you can afford to rent or buy