Portugal passes latest eurozone bailout test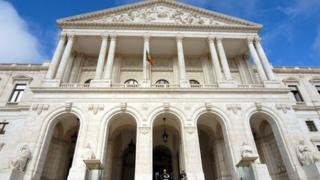 Representatives from the International Monetary Fund, the European Commission and the European Central Bank have approved Portugal's economic progress.
A programme of cuts and reforms was promised by Portugal's leaders in return for its May 2011 bailout.
The latest visit from the so-called troika means the next instalment of bailout funds will be granted.
But the government has been unable to persuade the lenders to ease the target for next year's budget deficit.
"The programme remains broadly on track," the troika said in a statement.
"Provided the authorities persevere with steadfast programme implementation, euro area member states have declared they stand ready to support Portugal until full market access is regained."
Stubborn unemployment
Portugal's deputy prime minister, Paulo Portas, who steered the negotiations, told a news conference that the government had failed to convince the visiting officials to ease next year's budget deficit target to 4.5% of gross domestic product, from the 4% currently required.
As a result, there are to be further across-the-board cuts in the 2014 state budget, with details to come in a week or so, the BBC's Alison Roberts reports from Lisbon. Spending cuts of 4bn euros (£3.37bn) are likely.
The troika's visit was originally expected to take place in July this year, but was postponed following a political crisis.
Despite the latest seal of approval from the lenders, and growth of 1.1% for the second quarter of 2013, after an export-led boost, unemployment is amongst the highest in the eurozone, especially amongst the young.
Portugal's bailout funds are timed to expire in the middle of next year, although many expect additional loans to be given.
Finance Minister Maria Luis Albuquerque has rejected talk of a second bailout, which has been much debated in recent weeks as Portuguese bond yields have soared, our correspondent says.