Carpetright warns of lower profits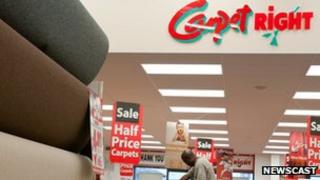 UK floorings chain Carpetright says this year's profits will be "significantly below" previous hopes and says its chief executive is leaving the company after 17 months.
The company said the UK market was "softer" and its business in the Netherlands had also suffered.
The forecast marks a sharp turnaround in its performance.
In June Carpetright reported a loss but said it had seen an "encouraging" rise in UK sales.
On Friday it said that sales were down by 2.5% over the 10 weeks to the end of September.
Darren Shapland took over as chief executive in May 2012.
He was formerly chief financial officer and group development director at Sainsbury's,
He oversaw changes including store refurbishments, new products and improvements to digital marketing.
'Disappointed'
Lord Harris, the founder and currently chairman, will become full-time executive chairman and Graham Harris, who has been with the company for just four months as trading director, will join the board and become chief operating officer.
In a statement Lord Harris said: "I am disappointed that Darren Shapland, who has made a significant contribution to Carpetright over the last 17 months, is leaving the business, but he does so with our thanks and we wish him well for the future. "
Carpetright's fortunes are closely tied to conditions in the housing market, where activity has improved.
But Lord Harris said: "The underlying market remains soft despite recent improvements to mortgage approvals and consumer confidence."
Lord Harris, is a Conservative peer and a party donor, he also donates to education, and has founded a number of academy schools.
He is also a non-executive director of the retailer Matalan and Arsenal football club.
Carpetright has almost 500 stores across the UK.