Robert Zoellick joins Goldman Sachs as adviser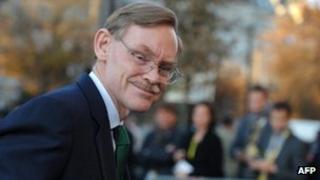 Former World Bank president, Robert Zoellick, has joined the investment banking giant Goldman Sachs.
Goldman said he will take on the role of chairman of the firm's international advisory board and counsel the firm on "global strategic issues".
Mr Zoellick's five-year term as head of the World Bank ended last year.
Before his appointment to the World Bank in 2007, Mr Zoellick had worked with Goldman Sachs as a vice chairman for a year.
Lloyd Blankfein, chief executive of Goldman Sachs said that Mr Zoellick "has extraordinary knowledge of the global economy and has devoted himself to helping emerging economies realise more of their potential.
"His experience and judgment will be important to our clients and to our focus on helping them identify growth opportunities around the world."
Since leaving the World Bank, Mr Zoellick also joined the board of Temasek Holdings, Singapore's sovereign wealth fund.
He also serves on the international advisory board of the Rolls-Royce group.