US markets cheer debt thaw by House Republicans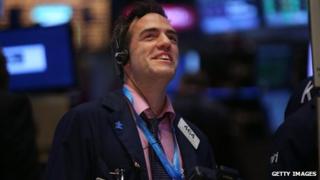 US markets had their best day since January 2013, buoyed by a House Republican proposal to raise the nation's borrowing limit for six weeks.
The Dow Jones, S&P 500, and Nasdaq indexes all closed up by more than 2%.
Markets rose after House Republican leader John Boehner said the GOP would agree to a short-term debt deal as long as President Barack Obama agreed to negotiations on other budget issues.
Mr Obama and Mr Boehner were scheduled to meet later on Thursday.
The Dow Jones Industrial Average spiked 323 points to close at 15,126. The S&P 500 rose 36 points to 1,692, and the Nasdaq jumped 83 points to 3,760.
European markets also closed higher on signs of progress in what had seemed like a stalemate.
Many investors had assumed that Congress would simply repeat the budget negotiation playbook of the past few years, and wait until the last minute to come to a deal.
The US Treasury has said that the nation would reach its borrowing limit by the 17 October.
Last Updated at 19 Sep 2017, 19:59 GMT
*Chart shows local time
value
change
%
22370.80

+

+39.45

+

+0.18

Top winner and loser

49.34

+

+

194.65

-

-
After that date, US Treasury Secretary Jack Lew warned that the US could default on its debt for the first time in the nation's history.
'Some hope'
Although the US government remains shutdown amid tense budget negotiations between House Republicans and Mr Obama, Wall Street had been primarily worried about the potential for a US default.
If a US debt default were to occur, it would send shockwaves around the globe, and could precipitate a crisis worse than the 2008 financial collapse.
Mr Boehner's offer means this might no longer be a possibility.
"There's certainly some hope," J Streicher & Co managing director Mark Otto told the BBC from the floor of the New York Stock Exchange.
Mr Otto added that he thought many traders had been caught off guard by the announcement of a potential way through the debt impasse, which perhaps explains the extraordinary rise in markets on Thursday.
However, he added that the six week deal currently being proposed by Mr Boehner's House Republicans would only extend the debt deadline until 22 November.
"I think from now until then there's certainly going to be some volatility in the market," said Mr Otto.
Still shutdown
However, while a thaw surrounding raising the US's borrowing limit might cheer markets, the US government remains shutdown.
Goldman Sachs estimates that if the shutdown were to extend into a third week, it could shave as much as 0.9% from US GDP growth this quarter.
Crucially, markets have been left in the dark about the current state of the US economy, as the agencies responsible for closely watched data like the jobs figures and inflation have been shuttered during the shutdown.
It remained unclear if Mr Obama was also amenable to negotiate with House Republicans about an end to the shutdown.
He has previously said that he would not negotiate on the US federal budget going forward until the government was reopened.