Australia's love of surfing making waves for small firms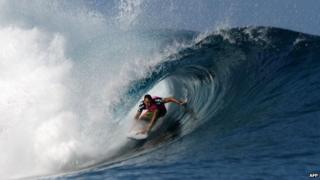 A century ago, Duke Kahanamoku, a majestic Hawaiian board rider, helped to ignite modern Australia's passion for surfing.
His showboating exhibition on the waves at Freshwater Beach in Sydney is widely seen as the catalyst for a national obsession.
Picked from a curious crowd, a teenage girl was given what was almost certainly Australia's first official surfing lesson by the man known simply as the Duke.
Today, the same swells that barrel in from the Pacific Ocean continue to thrill and they now sustain a range of small businesses that feed the popular surf tourism industry.
At nearby Manly Beach, a class of beginners is about to take to the water for the very first time. It's a hot day in spring, and conditions are perfect for novices - the breeze is light, the waves gentle and the tuition patient.
"It's a tough sport. Surfing is very similar to golf - you never master it, there are always things you can learn," says Nick James, from Manly Surf School, which was founded in 1995 and has 20 full-time staff.
It pays about 50,000 Australian dollars ($47,000; £29,600) per year to the local council for exclusive rights to operate on one of Sydney's most celebrated stretches of sand. A standard two-hour group lesson for an adult costs A$70, while children pay A$55.
Mr James says that business is generally vibrant, but admits that, like the weather, things can be unpredictable.
"It's challenging. We've got to pay licences to run our surf schools on the beaches.
"It's a good business, but there are times when we're closed for a week due to the surf conditions."
There are 35 licensed surf schools in New South Wales, the most populous state in Australia. The sport's regional governing body has estimated that surfing pumps more than A$500m into the state's economy.
"The sport is becoming increasingly more attractive," says Mark Windon, chief executive of Surfing New South Wales. "It is becoming more mainstream. It is just going to get more popular. In the next 10 years, you'll probably see triple the growth that you've seen in the last 10."
At Manly, the latest converts tentatively paddle out for their initial encounter with the breakers. They have limited success - boards suddenly become airborne, dumping their breathless passengers into the drink. But back they come for more, and herein lies the secret to surfing's success.
For many, its magnetic appeal is irresistible, and what's hearty for the soul is also good for the bottom line, according to Stacey Randell, executive officer of the Manly Chamber of Commerce.
"Our whole region is based on the water, and surfing is huge economically speaking, and the amount of visitors it brings in every year is vital to the businesses in this community. Everybody benefits from this culture," she says.
Yet while wave riding in Australia has never been more popular, independent surfing shops are struggling to stay afloat in a highly competitive market.
"It is not particularly an easy living for most surf shop owners. You'll find most of them are pressed pretty hard by the big corporates to sell specific merchandise and conform to corporate dictates," says Doug Booth, the Australian-born dean of the School of Physical Education, Sport and Exercise Sciences at the University of Otago in New Zealand.
A couple of streets back from Manly's sun-drenched waterfront, Tim Hanrahan, the owner of the Aloha surf shop, unloads another consignment of high-end boards. I ask if his head is financially above water? "Just," he says, laughing. "I make OK money."
"It's difficult. It's not an easy job. The profit margins particularly on the boards are quite low. I've seen a lot of competitors come and go.
"There is a lot of tourism in Manly, but realistically you've got to have the locals behind you, too. That's what keeps you going through the quieter months."
Surfing Australia estimates there are more than 2.5 million recreational board riders around the country. It is far beyond simply a sport, but a lifestyle and cultural phenomenon that tourists are keen to experience.
"I've always wanted to surf," says Ashton Williams, an investment software worker from Mississippi in the United States, as he wades out of the ocean at the end of his lesson at Manly.
"It's much tougher than I thought, but when you're finally gliding over the water it is one of the most peaceful things. It's pretty amazing."