Coca-Cola results 'sound' as profits rise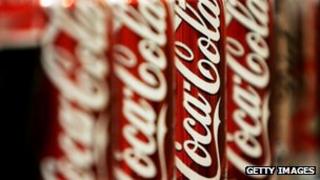 Global drinks giant Coca-Cola has reported a rise in quarterly profits, despite tough trading conditions.
Net income increased to $2.45bn (£1.54bn) in the July-to-September quarter, up 6% from the same period a year earlier.
Global sales volumes rose by 2%, helped by rising sales of soft drinks, teas and waters.
Chief executive Muhtar Kent said the results were "sound", considering volatility across emerging markets.
But he said Coca-Cola remained "discontent" and was "focused" on making the company grow, admitting it was not "immune" to the impact of global macroeconomic events.
"Importantly, the company remains committed to its long-term performance goals and to delivering the shareowner returns by always providing our consumers with the brands and beverages they love," he said.
Analyst at Morningstar, Tom Mullarkey, said: "It [Coca-Cola] had a good quarter. I wouldn't say it had a great quarter, but definitely a good quarter."
Coca-Cola is the world's largest soft-drink maker and relies on fizzy drinks for 70% of its global sales.
At the beginning of the year, Coca-Cola warned 2013 would be unpredictable, citing volatility in Europe, economic changes in China, the lukewarm recovery in the US, and challenges for Japanese consumers.