Ofwat plans to block Thames Water's price rise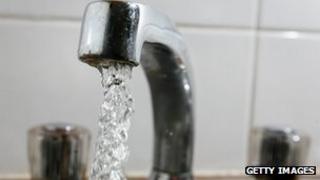 Ofwat, the water regulator, says it plans to block Thames Water's request to increase customer bills by up to 8% next year.
The regulator has published a draft decision blocking Thames Water's request for the interim increase.
Thames had asked to add an extra £29 to the annual average household bill.
The draft decision will be followed by a short period of consultation to allow for any new evidence. The final decision is due in November.
Thames says it has faced extra costs of £291m, because various items have cost more than the amount estimated when the price regime was set in 2009.
Ofwat and Thames disagree about how much these items will cost the company.
These include bad debts, the transfer of private sewers, land purchases and higher Environment Agency charges and could not be fully estimated at the time.
As part of the regulatory process, Thames Water had planned to apply for an increase once the figures were known,
In response to Ofwat's statement, it said: "We will review Ofwat's draft proposals and submit our response in due course."
Evidence
Every five years, Ofwat sets the prices that water companies can charge. It said it had now looked at the evidence that Thames Water had provided and that although the company did face higher costs, they were not high enough to trigger a price rise.
Thames is the only one of the 18 regulated water companies to have applied to the regulator for a bill increase in advance of the next pricing review.
Ofwat's chief regulation officer, Sonia Brown, said: "We said we would challenge Thames Water's request. We have looked at the details and do not believe the current evidence justifies an increase in bills."
The regulator's consultation on its draft decision gives all parties, including Thames Water, the opportunity to submit new evidence.
Any price increase would start from April next year.
Ofwat's previous agreement with Thames allows it to increase charges by 1.4% above inflation in 2014-15.