Goldman Sachs reports slump in revenues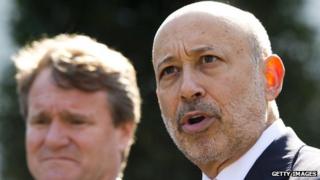 US investment bank Goldman Sachs has reported a 20% drop in third quarter revenues, but protected profits by trimming employees' pay and benefits.
Revenues sank to $6.27bn (£3.9bn) in the July-to-September period, as fixed income trading fell sharply.
However, profit was $1.52bn, almost unchanged from a year earlier.
"The third quarter's results reflected a period of slow client activity," said chief executive Lloyd Blankfein in a statement.
Shares in the bank fell by more than 4%, before recovering slightly.
Fixed income trading revenue at the bank declined by 44%, far more than the declines seen in comparable banks such as Bank of America and JP Morgan.
However, Mr Blankfein said business could improve following the deal to resolve the budget impasse in Washington.
"As longer term US budget issues are resolved, we could see an improvement in corporate and investor sentiment that would help lay the basis for a more sustained recovery," he said.
In order to shore up its balance sheet, the bank cut costs primarily by setting aside less for bonuses and other forms of banker pay.
The amount set aside for employee compensation was $2.38bn, down 35% from a year earlier.