Costa Coffee owner Whitbread beats profit expectations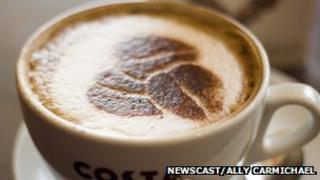 The owner of Costa Coffee reported a 12.6% rise in first-half profit after opening several new outlets of the High Street coffee chain.
Whitbread, the UK's largest hotel and coffee shop operator, reported a pre-tax profit of £216.1m ($349m) in the six months up to 29 August.
The profit beat analysts' expectations of £213m, and its £191.1m figure for the same six-month period last year.
Whitbread's growth was also helped by new branches of its Premier Inn hotels.
Total sales at Costa Coffee were up by 20.9%, and were 12.2% higher at Premier Inn.
Commenting on the results, chief executive Andy Harrison said: "Our combination of strong organic growth, good returns on capital and strong cash flow should continue to create substantial shareholder value."
Richard Hunter, head of equities at Hargreaves Lansdown stockbrokers, said the figures showed a "firm statement of intent in [Whitbread] achieving its strategic goals", alongside Whitbread's confirmation it will not give up Costa, the "jewel in its crown".
"The Whitbread growth story continues to drive on," Mr Hunter added.