Asda backs down on mobile pay-as-you-go credit loss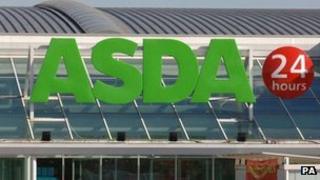 Asda will reimburse pre-payment mobile phone customers who were due to lose out when it changes provider.
Tens of thousands of its pay-as-you-go mobile customers had been told they had to use all their call credits by the end of April or they would lose them.
The supermarket is moving the network from Vodafone to EE.
After BBC Radio 4's Money Box programme raised the issue, Asda said they would offer customers free credit to use on its new mobile service or a gift card.
Changing provider
Until this week, the Asda website told customers they must use their credits because they could not transfer them, without offering any reimbursement.
It said: "We aren't able to transfer any credit, so we'd suggest you run down your current credit before joining us on the new network."
Asda customer Lorna uses her pay-as-you-go phone only occasionally, for urgent calls.
She has £66 credit, which she did not think she could afford to lose.
When she first heard of the change, she called Asda to see if she could get a voucher for the unused credit.
She told Money Box: "They said basically you've got to use it or lose it, and it's such a lot of money for me to lose.
"I know they've given us time to try and use it, but when you're being frugal, you just can't waste money like that."
Moyra also emailed to complain to Money Box.
"It is their decision to move to EE so why should I lose my credit because of their decision?" she asked
Neil tweeted Money Box to say his son stood to lose £20.
Adam Samuel, a financial services compliance lawyer, said that customers may have been able to claim that they had been subject to an unfair contract term.
He said: "The term in question doesn't appear to have been prominently presented when Asda sold either the original service or, more importantly, the top-ups that it almost certainly has sold with it.
"So people have bought their top-ups not realising that there was any time limit on their use and this is just a simple piece of unfairness."
Customer help
Mr Samuel said many customers would have used up the minutes anyway by the deadline but some people would have been disadvantaged
He said: "For the elderly who don't use their mobile phones that much, this could be a real imposition to say you know you must make lots of calls within a set period of time."
Asda has now added advice on its website, after Money Box highlighted customer complaints.
It now reads: "If you still have credit remaining on our current service at 30 April 2014, don't worry we'll provide you with a refund in either free credit to use on the new Asda Mobile service or an Asda Gift Card to spend on anything you like.
When the programme telephoned Lorna to tell her the news, she said she was "delighted".
Asda told Money Box: "We made a commitment last week that that we'd work closely with customers to make sure they wouldn't end up out of pocket and that is still the case.
"We do agree that this information wasn't clear enough for our customers on our website so we've updated this.
"Any customers who have a balance as of 30 April will be provided with a credit voucher to use on the new network or an Asda gift card."
Money Box is broadcast on Saturdays at 12:00 BST on BBC Radio 4 and repeated on Sundays at 21:00 BST. You can listen again via the BBC iPlayer or by downloading Money Box podcast.