GlaxoSmithKline sales plunge in China after scandal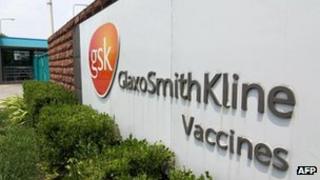 GlaxoSmithKline (GSK) has said its drug sales in China during the July-to-September quarter sank 61% after it was hit by a bribery scandal.
Andrew Witty, chief executive at GSK, said it was too early to predict when the business might recover.
But he added there was "absolutely no question" of the company pulling out of China.
The pharmaceutical giant allegedly used travel companies to channel 3bn yuan (£300m) to bribe doctors and officials.
GSK admitted some of its executives in China broke the law when Chinese authorities took four GSK employees into custody in connection with the allegations earlier this year.
"We continue to co-operate with the authorities and we remain fully committed to supplying our products to patients in the country," the company said in a statement.
"At this stage, it is still too early for us to quantify the longer-term impact of the investigation on our performance in China."
The investigation into GSK, which is one of Beijing's largest into a foreign company, started in July and also includes other pharmaceutical companies.
The drop in sales was bigger than many analysts predicted and hit the company's pre-tax profit - which fell 6% to £1.4bn.
Mr Witty said the business had suffered most where there had been options from other drug companies.
However, GSK predicted its sales growth for the year would be about 1%.
The multinational company, which makes Panadol, Sensodyne and Aquafresh among other things, sees China as an important market for future growth.
It has a research centre, 7,000 staff and five factories based in the country, although at the moment less than 4% of its sales are generated there.