Child benefit: Tax penalties threat from HMRC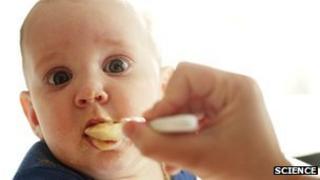 People who miss a paper tax return deadline of 31 October could face a penalty of £100, but there is leniency for high earners getting child benefit.
The late-filing penalty is an annual threat for those who complete self-assessment forms on paper.
The deadline for online returns is 31 January, after which the same penalty from HM Revenue and Customs applies.
Many people, who face a tax charge because they receive child benefit, will be filing for the first time.
Benefit rules
Families where one parent has a taxable income of more than £50,000 are affected by the changes to child benefit.
They are losing some of the benefit, following the introduction of the new rules in January 2013, while child benefit has been withdrawn entirely if one parent earns more than £60,000.
Eligible families receive £20.30 per week in child benefit for their first child and £13.40 a week for any further children.
The new rules mean that this payment is reduced gradually for families where one parent is earning a taxable income of between £50,000 and £60,000. Taxable income is earnings from employment, as well as other income such as from savings and shares, but may not include some pension contributions.
The amount of benefit they are not entitled to is clawed back by HMRC through the tax system, which is why they need to complete a tax return.
Leniency
Those affected should already have registered for self-assessment and technically face a £100 fine if they have failed to do so by now.
HMRC said that 145,000 of these higher-earning parents had still failed to register. This estimate is higher than the previous estimate of 110,000. A spokesman for the tax authority said the discrepancy was due to human error.
Lin Homer, HMRC chief executive, told the Public Accounts Committee: "Some 325,000 opted out [of child benefit] by 7 January. Another 65,000 or so have opted out since, and 425,000 were in self-assessment anyway. We also needed to get in another 325,000 [registered].
"I actually gave out an overly optimistic figure about a week ago, because immediately after the weekend, we thought that that had dropped to 110,000, but we got over-excited and double counted some people in that weekend.
"From now until the end of the year, we will continue to try - by direct letter, by media and by any means we can - to get the rest of those people to take action before the due date."
No fines had been handed out so far, and none will be before the end of January, HMRC said.
Any parent in this position who registers now will be given three months to complete their tax return, either on paper or online.
Chas Roy-Chowdhury, head of taxation at the ACCA, said: "The first which you must do if you missed the deadline is not think if you don't contact HMRC nothing will happen. HMRC will know about you sooner or later.
"The law is the law and you need to adhere to it. Therefore contact HMRC and register. I would suggest if you are in any doubt at all call HMRC but remember it will still be up to you to decide whether you should register.
"If you are near the £50,000 threshold be aware that any benefits you have, interest or dividends, or freelance work could push you over. So accurately work out your income."