Mortgage competition picking up in UK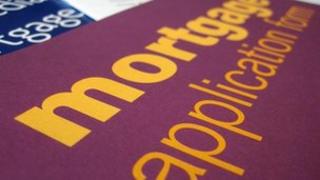 The Nationwide has cut some mortgage rates for those unable to raise a large deposit, but it remains undecided on whether to join the Help to Buy scheme.
The UK's largest building society said fixed rate deals for those offering a deposit of 10% of a home's value would be cut by 0.3 percentage points.
The aim is to challenge some lenders who have signed up to the government's extended Help to Buy scheme.
But Nationwide itself remains uncommitted on whether to join.
The government's initiative is designed to allow those who can make the repayments but can afford only small deposits to buy a home.
Competition
The first phase of the Help to Buy scheme in England started in April, when buyers of newly built homes were eligible for a 20% equity loan from the government on top of their 5% deposit.
Similar schemes are operating in Scotland and Wales.
Under the second phase, buyers across the UK only need to provide a small deposit, with the government offering a guarantee of 15% of the loan to the lender - for a fee - to encourage the bank or building society to offer the loan.
The launch of the second stage prompted some lenders to bring out new mortgage products for first-time buyers.
"The Help to Buy scheme has really prompted the lenders into offering better first-time buyer mortgages and lower deposit rates are still getting more competitively priced," said Aaron Strutt, of Trinity Financial mortgage brokers.
"First-time buyers in general are accessing better mortgages and this is partly due to the increase in competition Help to Buy has generated."
A host of big mortgage lenders have also said they would offer products when the scheme officially starts in January - but Nationwide is yet to be one of them.
"No decision has been reached. Nationwide is continuing to support lending to those with smaller deposits and we are already very active in the high loan-to-value sector of the mortgage market," a Nationwide spokeswoman said.
The building society's new rate for a two-year fixed rate deal for a buyer offering a 10% deposit is 3.99%, with a £900 fee, or a £400 fee for first-time buyers. A number of lenders offer mortgages at this loan-to-value level.