BT Sport users reach two million but profits down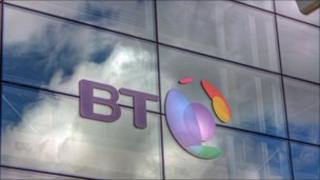 BT has said that more than two million customers are now signed up to its BT Sport TV service, which it launched in August this year to compete with Sky and boost BT revenues.
BT reported six-month pre-tax profits of £948m on Thursday, a fall of 13% from the same period in 2012.
New chief executive Gavin Patterson said that the sport offering had made a "confident start".
BT has a £738m three-year deal to show 38 Premier League matches a season.
However, initial viewer figures for some programmes were low. Speaking on the BBC's Today programme, Mr Patterson said that viewer figures were improving.
"Some shows are still building audiences," he said. "The audiences we are getting for rugby were higher than Sky in the past season."
'Calm and steady'
When asked if the BT Sport investment was about defending its market share in broadband, Mr Patterson said: "We need to increase the revenues of the business and this is one of the ways of doing it."
Claire Enders, chief executive of telecoms and media research firm Enders Analysis, said that it was a "calm and steady" set of results.
"What this company wanted to achieve was a positive performance and it did that. The UK is a huge market for content and connectivity. It is the biggest in Europe," she said, adding that it was a "very positive start for the new boss".
The firm previously announced it had signed up more than 500,000 subscribers - but many were existing BT broadband customers who receive the channels free after renewing their contracts.
Older consumer
BT said profits slipped because of the sports investment. However, the company added 156,000 new broadband users in the single quarter to the end of September. That is up from 81,000 for the same period in 2012.
Ms Enders said that this was due in part to a high demand for technological products from the older consumer. "The primary growth is from older demographics. The over-50s are driving up BT's broadband numbers."
BT now has about seven million broadband users.