Fannie Mae sues banks for $800m over Libor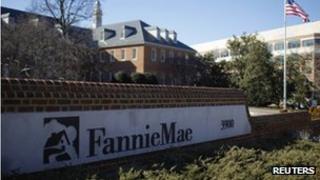 US mortgage giant Fannie Mae is suing nine banks including Barclays and Royal Bank of Scotland (RBS) over losses relating to the Libor scandal.
The mortgage financer is seeking more than $800m (£499m) in damages.
"Fannie Mae filed this action to recover losses it suffered as a result of the defendants' manipulation of Libor," a spokesman said.
Several banks have already admitted wrongdoing over the scandal, and have settled with regulators.
Libor refers to the London interbank offered rate, which is an interest rate used by many banks, mortgage lenders, and others to set the price of borrowing on trillions of dollars of financial contracts.
Several banks have indicated that they colluded to set the rate artificially low, which could have deprived lenders like Fannie Mae of higher profits.
The nine banks being sued by Fannie Mae are Barclays, RBS, Rabobank, UBS, Bank of America, Citigroup, Credit Suisse, Deutsche Bank and JP Morgan Chase.
Of those, Barclays , RBS, Rabobank and UBS have previously settled with regulators over similar allegations.
Barclays was fined £290m by UK and US authorities in 2012, while RBS was fined £390m earlier this year.
Rabobank received a fine of £662m from regulators earlier this week.
A string of international banks have been implicated in the affair and several criminal charges have been brought against traders.
It is also not the first time banks have been sued over Libor manipulation.
In March, the other major US mortgage financer Freddie Mac sued more than a dozen banks.