Sony shares plunge as it cuts profit forecast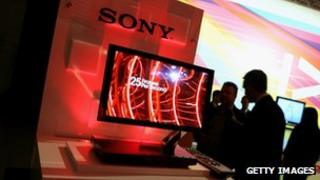 Shares in Japanese electronics giant Sony plunged 11% to 1,668 yen on the Tokyo Stock Exchange after the firm cut its profit forecast.
The firm lowered its full-year profit forecast by 40% on Thursday as it reported a loss for the July-to-September quarter.
The company has been hurt by slowing demand and falling prices for key products such as TVs and game consoles.
Its cinema division was also hurt during the quarter by some flops.
The firm now expects to make a net profit of 30bn yen ($305; £190m) in the financial year to 31 March 2014, down from its earlier forecast of 50bn yen.
The cut came as the firm said its loss in the three months to the end of September widened 25% from a year ago to 19.3bn yen.
Its earnings were impacted by the poor showing of some high-profile movies including White House Down.
Meanwhile, its TV division - which has struggled in recent years - also posted a loss of 9.3bn yen during the period,
At the same time, a drop in prices resulted in its Game division reporting an operating loss of 800m yen during the period, compared to an operating profit of 2.3bn yen during the same quarter a last year.
Analysts said that with some of the key divisions continuing to struggle, investors were worrying whether the firm will be able to turn around its fortunes.