Family's trauma as dead daughter was chased for debts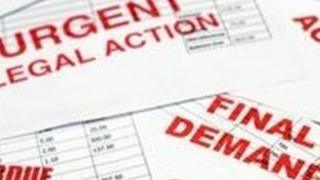 Dealing with the financial affairs of a loved one when they die can be difficult.
The probate process distributes the deceased person's property and assets. But what happens when someone leaves no assets but they do leave debts?
On July 4 this year Julia and Pat Quigley's daughter Hannah took her own life. She was 45 and had battled against mental health problems for the best part of two decades. Hannah left no assets but she did have some debts with her bank and mobile phone provider.
Julia Quigley says they were quick to notify EE (Everything Everywhere) and HSBC that Hannah had died, as she told Radio 4's Money Box programme: "They were phoned within three days by my son who came down from Newcastle to support us."
Demands for payment
The businesses and debt collection agencies (who were now in charge of attempting to collect the money owed) were advised that the death certificate would be forwarded to them and that the accounts should then be closed. But the letters, many of them addressed to Hannah, kept on coming asking for payment.
Julia wrote back, saying that Hannah had died, enclosing the death certificate and advising that she had left no assets. But the letters continued. One from Pastdue Credit Solutions, dated October 21, said; "We will not attempt to contact you again with regards to this case number however our client may continue to contact you or pass on the account to another debt collection agency."
It was nearly four months since Hannah had died, but Julia Quigley said it seemed that a resolution was still not in sight: "I was very shocked because they had been told that she'd died and I immediately called my son and he checked on the web and said, 'No, she's definitely not liable for this money'."
Money adviser Nick Lord said: "Debts are only liable to be paid if they are in the name of a person but if they are in joint names there is joint and several liability." This means that debts in a sole name die with a person if they do not leave any money or assets. However, if someone has a debt with a partner and one party dies then the other party assumes liability for the debt.
Best practice
Debt collection guidance provided by the Office of Fair Trading clearly states that "putting undue pressure on debtors or relevant third parties is considered to be oppressive and an unfair or improper practice".
It goes on to say that creditors must "ensure that accurate and adequate information is held about a borrower in relation to the provision of credit".
Julia Quigley contacted Money Box to express her frustration at the treatment she had received. The programme contacted the businesses involved to ask for an explanation.
EE said that the debt had initially been passed to its own debt collection department in April 2012 but had subsequently been sold to Pastdue Credit Solutions. EE has bought back the debt and closed the account: "We're sorry to hear of Ms Quigley's passing. Ms Quigley's account was first sent to debt collection on 5 April 2012. As the account was not settled, the debt was eventually sold on. As soon as Orange was made aware of the situation, we repurchased the debt and cancelled it immediately."
Company apologies
Caroline Grant, the managing director of Pastdue Credit Solutions, has apologised for the distress caused and will donate £100 to a charity of the Quigley family's choice. She said: "I am deeply sorry to learn that an administrative error on our part has added to the distress of the late Hannah Quigley's family. The error on our part was caused by our employee closing the account under the wrong closure reason."
HSBC apologised and has offered the family £500 by way of compensation and will make a donation of the same amount to a charity of the family's choice: "HSBC apologises unreservedly to the Quigley family for the insensitive and incorrect handling of Hannah's debt following her death. The failure was one of human error in not recording our collection activity as it should have been."
Nearly four months after Hannah died, her financial affairs have finally been settled. Julia Quigley is relieved at the outcome: "I'm absolutely delighted and if it helps anyone in the future then that's wonderful. All the money will go to SANE."
The mental health charity will receive more than £1,000.
Money Box is broadcast on Saturdays at 12:00 BST on BBC Radio 4 and repeated on Sundays at 21:00 BST. You can listen again via the BBC iPlayer or by downloading Money Box podcast.